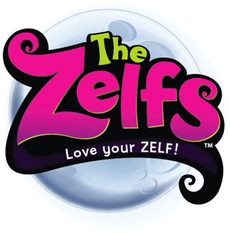 The Zelfs is a franchise of toys made by Moose Enterprise. Six waves were made, each containing a rare figure.
Background
The Zelfs was created by Moose Enterprise as an expansion of their catering towards girls, after the success of their boys' line - the Trash Pack. The franchise was launched in the summer of 2013, with products landing on store shelves in August. 
Toys
The main part of the franchise is toys. The main figures come in three different sizes - Large to target the fashion doll market, Medium to target the 'collectable' audience and Lil' Zelfs which aim to those who buy mystery pack toys.
The toys are distinctive for their wacky hair. It comes in vibrant colours, depending on the character, and reaches a high height, unlike common fashion dolls. They have glass-like eyes, and their faces bear smiles, which is an attribute of their popularity due to their 'cute' expressions. They all have different powers, which include Positivity, Discovery and Awesomeness - as well as unique Zelf markings which according to commercials shows their own identities. 
Comparison to other brands
The Zelfs are based heavily upon Troll dolls - their design is primarily based on the shape and height, with similar hair of a Troll Doll. This is not a coincidence as a number of counterfeit or Troll Doll-like toys were produced in the 1990s and 2000s due to a copyright issue that Dam Things, the original Troll Doll company, had when their dolls were being licensed globally. Troll dolls were a major fad from the 1960s, 1970s in Europe and then later globally in the 1990s. The Zelfs also base their name on the Elf, a creature of Germanic folklore rather then the Troll which is a creature of Scandinavian folklore of which the Troll Dolls are based upon. They are also not sold like the Troll Dolls as good luck charms. The similarities are so alike that second hand dolls are often sold as "Troll Dolls" on sites like e-bay due to "Zelfs" being a lesser known brand name and the design of the Troll Doll being so well recognised.
The Zelfs are also often compared to My Little Pony - in particular the current generations. One reason includes the similarity between the names of character Buttershy and MLP's Fluttershy. Also, the Zelf markings bear a similarity to MLP's cutie mark concept, and showing the 'identities' of each character using body markings. For these reasons, the Zelfs have been under fire by hardcore MLP fans accusing the Zelfs of copying. However, many fans have an interest in Zelfs as well as MLP.
Websites
Community content is available under
CC-BY-SA
unless otherwise noted.